Nursing Healthcare 2023 Meeting &amp Hospitality
Address
Millennium Hotel Paris Charles De Gaulle, Paris Hotel Zone 2 Allee Du Verger Roissy En France, 95700 Paris, France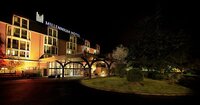 The City
As the capital of France, of art, and of fashion, Paris is unquestionably one of the most stunning cities in the whole world.
No matter how much time you have here, there are a zillion things to do and see in Paris: Take the time to enjoy Parisian culture by visiting the Louvre, ascending the Eiffel Tower, strolling down the Champs Elysées, taking in a show or exhibition, or just strolling along the Seine. You may even read in French at the Tuileries Garden.
You may also take the Paris l'Open Tour (tour buses), which operate all day long on four routes across the city and offer commentary in eight different languages. They make several stops between 9.30 am and 6.30 pm, picking up and dropping off passengers every 10 to 25 minutes. The town may also be explored on foot, or you can board one of the fabled "bateaux-mouches" for a breathtakingly perspective of the city from the Seine, if none of those options appeal to you.
Within Paris, you have access to:
Metro (subway), RER (regional train network), and tramways (light rails): The Parisian metro is one amongst the foremost useful modes of transportation, with over 400 stops. Metros run from 5:30 to 1:15 a.m., and until 2:15 a.m. on Fridays, Saturdays, and also the night before public holidays. RER trains run from 6 to 12:30 a.m.
Buses: There are about 300 bus routes crisscrossing the Paris metropolitan region. From 7 am to 8:30 pm, buses run.
Bus Noctilien (night bus): From 12:30 to 5:30 within the morning, these buses replace the metro and RER.
Directions
Route Map